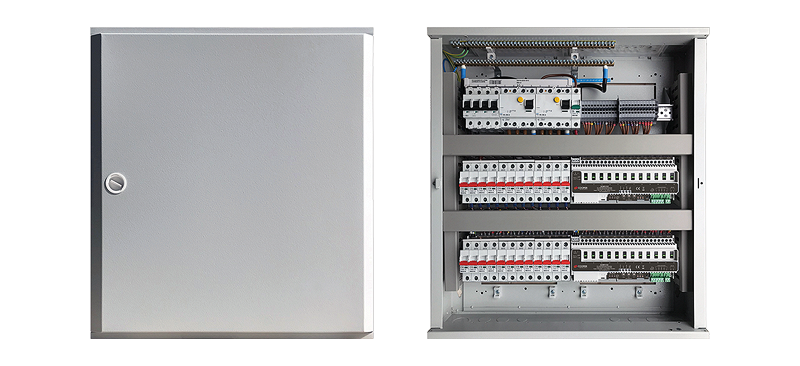 RigSwitch is a remote controlled power switching solution suitable for any size venue, utilising Cooper Lighting Solutions broad portfolio of power management technologies.
RigSwitch can be delivered in standard 12 or 24 channel cabinet configurations with RCD or RCBO options with a wide choice of user control interfaces. Customised RigSwitch configurations include larger channel counts and options for RCBO traffic lights and AFDD (Arc Fault detection). With individual relays rated for up to 32A operation RigSwitch can cater for even the most power hungry user.
RigSwitch is ideal for switching power for today's modern entertainment lighting systems, including moving lights, LEDs, amplifiers, specials and video equipment.
Up to 96 circuits of feed through relays per cabinet
DMX control per circuit (or control via DALI and iCANnet)
Remote button panels available, or use any switch via contact closure
Intelligent propagation delay to reduce power-up inrush nuisance tripping
Manual override of any circuit (mechanical, not digital)
6, 10, 16, 20, 25 or 32 amps per circuit
Neutral Disconnect MCBs (with incoming RCD) or RCBO per circuit
Options for leakage current monitoring and/or arc fault protection
Includes cable gland plate insert (top)
Optional glass door and/or lockable door
Override relays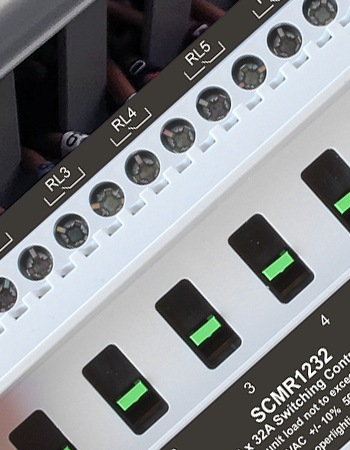 The feed through relays provide outstanding features & performance in a truly competitive package.
Each circuit is rated for up to 32 amps and is designed to switch heavy loads of all types, including resistive, inductive & capacitive.
MCB, RCD, RCBO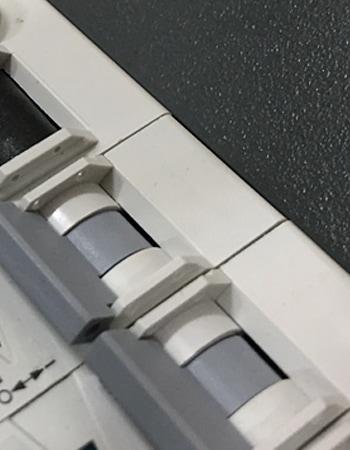 Circuits are protected by neutral disconnect MCBs as standard.
Optional RCDs break the incoming supply if a fault is detected.
Upgrade circuits to RCBOs to limit inconvenience tripping to individual circuits rather than the whole unit.
Control Options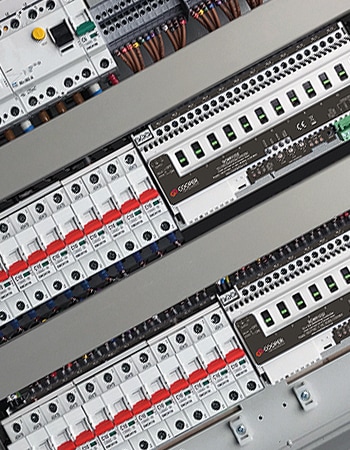 Three methods of control are available - DMX, DALI and iCAN.
These can be used exclusively, or brought together to link with a virtually limitless number of other products to build a system of any size.
User interfaces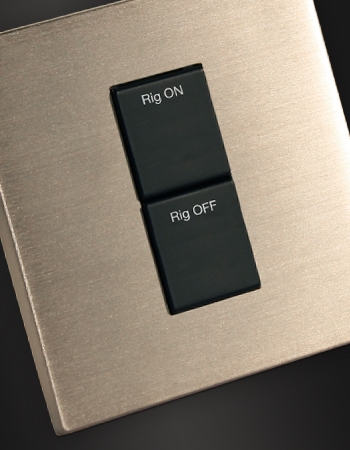 Our range of user interfaces include multiple customisable keypads, touchscreens, time based triggers and your own choice of switch.
These can be configured to match any specification for scene setting, sequencing or manual control.
| Part Code | Name | |
| --- | --- | --- |
| 0050-000063-00 | RigSwitch, 12 channels, 10a MCB (ND) with isolator | Request quote |
| 0050-000064-00 | RigSwitch, 12 channels, 10a MCB (ND) with isolator & RCD | Request quote |
| 0050-000065-00 | RigSwitch, 12 channels, 10a RCBO with isolator | Request quote |
| 0050-000066-00 | RigSwitch, 12 channels, 16a RCBO with isolator | Request quote |
| 0050-000067-00 | RigSwitch, 24 channels, 10a MCB (ND) with isolator | Request quote |
| 0050-000060-00 | RigSwitch, 24 channels, 10a MCB (ND) with isolator & RCD | Request quote |
| 0050-000061-00 | RigSwitch, 24 channels, 10a RCBO with isolator | Request quote |
| 0050-000062-00 | RigSwitch, 24 channels, 16a RCBO with isolator | Request quote |
| Part Code | Name | |
| --- | --- | --- |
| SSR-2LB-B-BS | 2 button "Sencia" panel ("On" & "Off") | Request quote |
| | Customised "Sencia" panel (up to 12 buttons with custom engraving) | |
| | 3.5" touchscreen (with personalised touch interface) | |
| | 5" touchscreen (with personalised touch interface) | |
| | 8" touchscreen (with personalised touch interface) | |
| | PC software (with touch support) | |
| UIM | Universal Interface | Request quote |
| | Glass Door | |
| | Door Lock | |