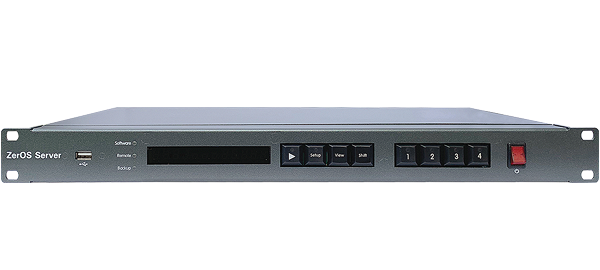 ZerOS Server is a rackmounted, slimline (1RU), fully featured lighting control system ideal for use in performance installations and networks where show replay, tracking backup or architectural system integration is required.
ZerOS Server runs "ZerOS" - a powerful and proven lighting control application designed for the control of all types of performance lighting including LED, intelligent moving lights, media servers, effects and traditional theatrical lighting fixtures and dimmers.
ZerOS Server features interfaces to MIDI (notes, timecode & showcontrol), DMX, RDM, Art-Net 4, streaming ACN and contact closures, and has the option to act as an iLight iCAN network device within a distributed intelligence architectural lighting network.
Control up to 8192 fixtures
Flexible channel allocation across 64 universes
Control of LED, moving lights, media servers, effects and dimmers
Optional external touch screen
iOS, Android & Windows remote apps
DMX, RDM, sACN, Art-Net, Midi Notes, MTC, MSC & Contact Closures
Optional integration with control panels, touchscreens & iCAN devices
Quiet, dust free, fanless operation
3 year warranty
CE compliant, designed and manufactured in the UK to ISO9001:2015
Show replay
Stand alone or remotely triggered controller for permanent installations such as facades, landscapes or theme parks.
Tracking Backup
Full tracking backup and auto switch-over with FLX, for any venue or event where redundancy is required.
Architectural integration
A bridge between performance lighting and architectural lighting, ideal for theatres, conference centres and other public buildings.
Software
ZerOS
ZerOS Server runs ZerOS - the operating system for all premium lighting consoles from Zero 88.

| Part Code | Name | |
| --- | --- | --- |
| 0050-000011 | ZerOS Server, 2048 channels, UK | Request quote |
| 0050-000015 | ZerOS Server, 4096 channels, UK | Request quote |
| 0050-000019 | ZerOS Server, 8192 channels, UK | Request quote |
| 0050-000012 | ZerOS Server, 2048 channels, Schuko/French | Request quote |
| 0050-000016 | ZerOS Server, 4096 channels, Schuko/French | Request quote |
| 0050-000020 | ZerOS Server, 8192 channels, Schuko/French | Request quote |
| 0050-000013 | ZerOS Server, 2048 channels, US | Request quote |
| 0050-000017 | ZerOS Server, 4096 channels, US | Request quote |
| 0050-000021 | ZerOS Server, 8192 channels, US | Request quote |
| 0050-000023 | ZerOS Server +CAN, 512 channels, UK | Request quote |
| 0050-000027 | ZerOS Server +CAN, 1024 channels, UK | Request quote |
| 0050-000031 | ZerOS Server +CAN, 2048 channels, UK | Request quote |
| 0050-000035 | ZerOS Server +CAN, 4096 channels, UK | Request quote |
| 0050-000039 | ZerOS Server +CAN, 8192 channels, UK | Request quote |
| 0050-000024 | ZerOS Server +CAN, 512 channels, Schuko/French | Request quote |
| 0050-000028 | ZerOS Server +CAN, 1024 channels, Schuko/French | Request quote |
| 0050-000032 | ZerOS Server +CAN, 2048 channels, Schuko/French | Request quote |
| 0050-000036 | ZerOS Server +CAN, 4096 channels, Schuko/French | Request quote |
| 0050-000040 | ZerOS Server +CAN, 8192 channels, Schuko/French | Request quote |
| 0050-000025 | ZerOS Server +CAN, 512 channels, US | Request quote |
| 0050-000029 | ZerOS Server +CAN, 1024 channels, US | Request quote |
| 0050-000033 | ZerOS Server +CAN, 2048 channels, US | Request quote |
| 0050-000037 | ZerOS Server +CAN, 4096 channels, US | Request quote |
| 0050-000041 | ZerOS Server +CAN, 8192 channels, US | Request quote |